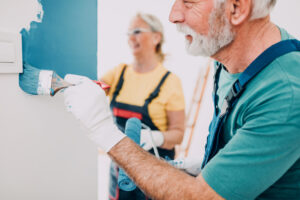 While your post-retirement life is a great time to travel, it is also a smart time to think about how to make your home as comfortable as possible. In addition to having more time to yourself, you can start thinking about how you can ensure your living space will still accommodate you in later years. For some, the right accommodations will come from renovations. Making changes to your space can be costly, but it can have lasting value. Not only do you increase the value of your home, you make it a space that is more satisfying for you to enjoy.
There are different ways homeowners can cover the costs of home renovations. If you are over 62 and meet the right qualifications, a reverse mortgage can help cover this expense. Beyond being used as a way to prepare for retirement, a reverse mortgage can help you take on different costs, including those involved in repairs and modifications. FHL Texas can help you understand how you can employ the equity you have built to help in this and other matters. We can also guide you through the different terms and loan types available to make sure you receive the right kind of support from your reverse mortgage!
Qualified Borrowers Can Put Their Home Equity To Good Use
For people who qualify, a reverse mortgage can effectively offer access to home equity, turning it into something you can use in ways that you see fit. This is often seen as a way to supplement retirement savings, but there are other ways in which it can be used. For people who want to travel, make sure medical bills are covered, or do work on their homes, a reverse mortgage can be a welcome source of money. Because there is flexibility in how loans are given out, you have more control when it comes to what you receive. In other words, you can seek a loan for a large impending cost, or you can unlock your equity and begin saving to prepare for an unanticipated event.
Your Reverse Mortgage And Your Home Renovations
Your retirement can mean the start of a life where you spend more time in the home. Even if it feels comfortable to you today, making sure it remains so in the future can call for some changes. By taking out a reverse mortgage, you can fund repairs and renovations that make your space more appealing. You can also look at this as a way to prepare for a future where you need a more accommodating space due to changes in your health.
Selecting The Right Loan To Suit Your Needs
At FHL Texas, we provide information on different loan types and terms that are available to qualifying homeowners. One significant choice involves the decision to rely on the traditional HECM loan or to look into what Equity Elite and Equity Elite Zero terms offer you. Another is to decide how your loan should be delivered. If you have a clear plan for renovations and want to start soon, you can look at the advantage of a jumbo loan, which can provide more of your money upfront. However, if you are not sure what you are taking on or when you might want to begin, you can review different choices. Options for monthly payouts and access to a line of credit can help you secure terms that you enjoy. Because there are not monthly payments attached to your reverse mortgage, you can open up early access without taking on unwanted expenses!
Separating Myths And Facts About Reverse Mortgages
While a reverse mortgage can be better suited to some people than others, myths about what a reverse mortgage will involve can scare people who might benefit away. Your home stays in your name after you complete a reverse mortgage, so you are not losing access to your property by taking this on. What this means is that the work you do renovating your home renovates your space, and is not done for the sake of a property you have lost. While your reverse mortgage is tied to your decision to stay in your home, you are not forbidden from making a sale. Selling after you complete renovations and add to the value of your space can help you pay off the loan and leave with more financial support.
The Right Guidance Can Help You Make The Most Of Your Equity!
We understand that even exciting opportunities come with concerns. With a no-obligation appointment, FHL Texas can help you decide if this is truly the right step for you, and we can see to it that you have the right information about different terms. There are also rules about reverse mortgages, and who qualifies, that you should know about before making a decision. Investment properties are not eligible, and you will need to permanently reside in the home to ensure that it is eligible.
There are different ways in which you can use what you receive. Even if you have a plan in mind for what you receive, there are different benefits to the right arrangements. You can set yourself up with a monthly payment or credit line, and you can even dedicate part of what you receive to automatically cover the monthly and yearly costs for your home.
Talk To FHL Texas About Securing A Reverse Mortgage
With a reverse mortgage, you can make effective use of the equity you have built up over time while also reducing your monthly expenses. Often seen as a way to help with retirement, there are many ways in which you can use the loan that you secure! Whether you want to plan a vacation, cover medical bills, renovate your home, or do something different, we can help you understand your options as a homeowner. For more information, call FHL Texas today at 1-800-990-LEND (5363).