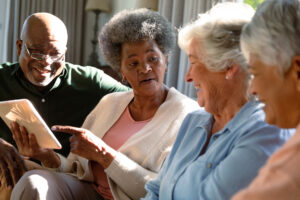 When it comes to home loans —and real estate in general — there is a mind-boggling amount of acronyms. From FHA to ABR to ROI to dozens more, it is understandable if you feel overwhelmed by all the jargon. This can admittedly make learning about home loans and owning property difficult, which is why it is important to have a trusted resource you can count on any time you have questions. With this in mind, we are going to discuss a commonly misunderstood term: HECM. In today's blog, Family Home Loan Texas talks about a HECM and what it can do for you.
What Is HECM?
HECM stands for Home Equity Conversion Mortgage, and it is a federally-insured reverse mortgage. It is pronounced "heck-uhm" and is provided by FHA-approved lenders. It is helpful to think of it as being synonymous with reverse mortgages because, in the vast majority of situations, this type of loan is available through lenders that do meet FHA requirements. A HECM is available to those who are 62 or older and are taking the loan out on their primary residence. It allows homeowners to borrow a portion of their home's equity as income. As the name implies, instead of making monthly payments — as you do with a traditional mortgage — you receive funds from a lender.
Eligibility Requirements
In addition to the above personal requirements, there are other elements you should be aware of before taking the next steps towards a HECM. While you do not need to have your home fully paid off, you will have to use any funds from a reverse mortgage to pay off the remaining balance before you can spend them elsewhere. It is also important to note that you will have to meet with a counselor who is approved by the U.S. Department of Housing and Urban Development. This is to ensure that you fully understand what a Home Equity Conversion Mortgage consists of. 
Your property also needs to meet certain criteria. It needs to be your primary residence, which means you need to spend at least six months of the year living in it. The property must also be a single-family residence, a condo, a townhouse, or a 2-4 unit property that you live in. 
It is also crucial that you can show that you meet the financial requirements put forth in your loan. While you will be receiving money each month, you still need to pay your property taxes, insurance, and general maintenance costs. There are also upfront fees required to process the loan and its various steps. Typically, you'll need to provide bank statements, proof of assets, your credit scores, and more. Your loan counselor will make sure you know the documents you will need throughout the process.
The Reverse Mortgage Process
The very first step is meeting with a third-party reverse mortgage counselor who's approved by the U.S. Department of Housing and Urban Development (HUD). This is a mandatory step, and a loan officer cannot move forward with the mortgage until you meet with this independent party. When you meet with them, they will walk you through all aspects of the loan, so you are well aware of the necessary qualifications and what you should expect if you do meet eligibility requirements. 
Once you have met with the counselor and have figured out if a HECM will benefit you, you will submit an application to the lender you want to work with. This will require you to gather the above-mentioned documents that show your ability to keep up with necessary maintenance costs. From there, an appraiser will visit your home to determine its value. This is important because your lender wants to be sure that your home is worth the amount of money they are giving you. This appraisal and overall loan package are then sent to an underwriter for approval. They are responsible for ensuring that all the included information is correct and adheres to all relevant laws and regulations. 
Once your application has been approved, you will sign closing documents with either a title office or an attorney, depending on what your state requires. In addition to fees associated with the application process, there will also be closing costs. Luckily, these are wrapped up in your loan, so you won't have to pay them until you pay back the loan. About three days after everything closes, you should receive your money from the lender.
Flexible Funds
Because reverse mortgages are all about empowering you to have financial freedom and flexibility, you can choose how you receive your money. If you want all of your money at once — typically for major expenses — you can receive it as a lump sum. For this option, you will have a fixed interest rate, which means it stays the same throughout the duration of your loan. If you have ongoing costs or you want to have the security of having extra funds around, you can receive your money as regular payments, a line of credit, or as a combination of these. These have adjustable interest rates, which means they alter throughout the course of the loan. With a line of credit, you only have to pay the interest on the money you actually use; this can save you money in the long run. 
Home Equity Conversion Mortgages are particularly attractive for those who are eligible because they don't have to pay any money back until they stop living in their homes or it stops being their primary residence. They retain their house's title, so it truly remains theirs. Those who are in or near retirement want and deserve financial security, and a reverse mortgage helps make this possible. This peace of mind is impossible to put a value on because it is so important.
Contact Us For A No-Commitment Consultation
We understand that a reverse mortgage is a significant undertaking, so we are here to help you through every step of the entire process. We want to assist you in enjoying your financial flexibility. Family Home Loan Texas was founded by loan originator and long-time mortgage professional Rob Bramer. Rob has helped clients secure the loans they need both locally and nationally and can help you get the loan you need to live life on your terms. Call 1-800-990-LEND (5363) to speak with Rob about a reverse mortgage loan and to receive a free, no-commitment consultation.