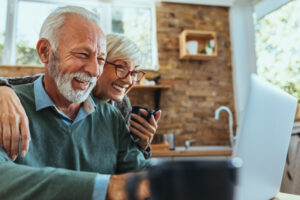 Beginning the process of learning about and getting a reverse mortgage can feel daunting. Because of the age requirements and prevalent myths, many people do not come across much information about these loans until later in life. This leads to a less organic learning process, so when you do start to gather information, you could very well become overwhelmed. Luckily, the first (and mandatory) step is meeting with a qualified, third-party HUD-sponsored counselor before moving forward with the reverse mortgage. This meeting helps prevent any surprises down the road and helps you prepare for the application process. In today's blog, Family Home Loan Texas discusses reverse mortgage counseling and the ways it makes getting this loan easier. 
Why Counseling Is So Important
If you visit with a reverse mortgage lender, they can provide you with basic information about the loan, but they will direct you to a counselor to speak with before you move any further into the process. This helps prevent you from being taken advantage of down the road. There are lots of myths and misinformation surrounding reverse mortgages, and one of the most prevalent ones is that these loans are predatory. By meeting with an independent, HUD-sponsored counselor, you are receiving essential information that will allow you to operate with full awareness of the loan and the process of receiving one. After you have this meeting, you will receive a certificate that you can then present to a lender. From there, they can begin the process with you, and you can rest assured knowing that you are fully informed. A potential lender can point you in the direction of a counselor or you can search for one in your area with this tool from HUD. 
What Will You Talk About In This Meeting?
Once you find a HUD-Sponsored counselor, you will either chat with them over the phone or in-person — whichever is most convenient for you. They will give you a complete picture of how reverse mortgages work, covering your various payment options, fees, interest rates, and the overall pros and cons for your specific needs. In addition to providing general information, your counselor can also assess your unique financial situation and help you determine if this loan is right for you. 
Moreover, a counselor can also look up non-reverse mortgage options and benefits that could help provide you with the funds you need. Additionally, they can point you in the direction of general financial services that can assist with things like balancing your budget. This information will also help you have a better sense of if a reverse mortgage is right for you. Overall, the counselor will give you as much information as possible. Because they are independent, they do not attempt to sway you one way or the other. Rather, their goal is to help you make the decision that will best suit your needs. 
It is important to note that you will have to pay for counseling, but if your income falls a certain amount below the poverty line, you can delay payment until a later date. Similarly, this payment can be pushed back if you are facing foreclosure, disability, bankruptcy, or other similar hardships.
What Happens Next?
Once you have received your certificate stating that you have completed counseling, you will bring it to the lender of your choice, and they will begin the application process. During the early stages, you will need to collect and provide financial statements that will show that you can cover various maintenance costs that are expected to pay. While these are quite small compared to the amount of money you will likely receive from the loan, you will still need to pay for insurance, property taxes, and general upkeep costs. 
At this point, an independent appraiser will look at your house and determine the total value of your home, taking many things into account. This will provide your lender with more information to provide you with the appropriate amount of money for the loan. This is important because your house is essentially the leverage for your reverse mortgage, and your lender wants to know that they are not providing more money than the house is worth. The lender wants to cover themselves because you will never have to pay back more than your home's value by the time you decide to move out and sell. 
Once all of the above information is determined, everything will be sent to an underwriter who ensures that everything looks good and is legal. Once they approve the application and contracts, you will sign your closing documents and receive your money within three days.
Contact Us To Learn More About Reverse Mortgages
Once you meet with a counselor, we can help with all the subsequent steps of the reverse mortgage process. Family Home Loan Texas was founded by loan originator and long-time mortgage professional Rob Bramer. Rob has helped clients secure the loans they need both locally and nationally and can help you get the loan you need to live life on your terms. Call 1-800-990-LEND (5363) to speak with Rob about a reverse mortgage loan and to receive a free, no-commitment consultation.