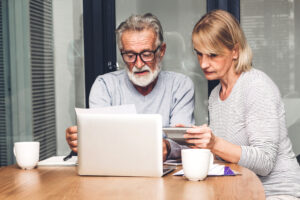 By making smart plans and good investments, you can prepare for a comfortable retirement. Unfortunately, even great plans can fall short when you face unexpected expenses after you finish working. For many people, medical bills and long-term care plans can make retirement more costly than anticipated. Fortunately, homeowners who qualify can use a reverse mortgage to borrow against their home equity and prepare for these and other later in life costs! If you are over the age of 62 and have at least 50% equity in your primary residence, this kind of loan can offer significant long-term benefits. FHL Texas has experience helping people determine how they can qualify and what they can receive. We can help you understand the terms available to you, clarify common misconceptions, and see to it that you gain lasting support from a reverse mortgage that truly suits your needs!
Unanticipated Expenses Can Complicate Retirement Plans
A good retirement plan can make room for unexpected costs. Unfortunately, even people who put time and effort into the right preparations can run into more expenses than they anticipated. Medical events and health changes that require long-term support can eat into the savings you have built up, which can jeopardize the plans you have laid out. Fortunately, many homeowners age 62 and older will have access to their home equity in the form of a reverse mortgage. Unlike a HELOC loan, which can make you commit to monthly payments, a reverse mortgage can help you take money in a lump sum, installments, or credit line without regular payment requirements. Even if you have no immediate need for the loan, you can make arrangements to set it up now so that it can keep growing until you do need to draw from it.
Are You Prepared To Add Medical Costs To Your Monthly Expenses?
Our retirement years can be full of fun, and they provide opportunities to enjoy vacation plans and other activities that were harder to fit in while working. Of course, these years are also a time when you need to be more conscious of your health needs. Even with the support of Medicare, people in retirement can take on increasing out-of-pocket costs to manage their well-being. New prescriptions, physical therapy, and in-home caregivers are just a few of the expenses people can take on when they are older. Fortunately, your retirement years are also a time when you have a new resource to help you prepare for the future. With a reverse mortgage, you are able to borrow against your home equity and enjoy considerable financial support!
Your Home Equity Can Be An Important Financial Resource
While a reverse mortgage is not available to you until you turn 62, it becomes an important financial resource when you do qualify. On top of your income, savings, and investments, your home equity can help supplement your retirement nest egg in a significant way. In addition to providing security, it can help you make renovations to your home, seek out new investments, and protect yourself in the event that you have medical costs. Beyond the traditional HECM loan, new options in the form of Equity Elite and Equity Elite Zero can help you if you have concerns about closing costs, or if you are interested in drawing equity from a home with more value.
Setting Up A Reverse Mortgage Line Of Credit To Protect Against Future Expenses
One reason to consider a reverse mortgage early in your eligibility is to set up a line of credit. Taking your equity in this form will actually help you grow what you receive until you draw from it. Unlike a home equity line of credit (HELOC), a reverse mortgage line of credit provides a fixed growth rate. That means you have your interest rate set, and you will not be hurt by changes that might lower your credit line on a HELOC. Another benefit is that the terms of a HECM prevent the establishment of a new monthly payment and it can take away your existing mortgage payments!
Until you draw from it, your line of credit will keep growing from the original amount. Setting it up before you retire means giving it time to grow at your set interest rate. The longer you wait to pull money, the more you will ultimately have available to you! Medical expenses and other costs can be unpredictable. When you have a reliable credit line available, you can be better equipped to take them on!
Reviewing Your Eligibility And Your Loan Options
Starting with a no-commitment consultation, FHL Texas can help see you through the steps in securing a reverse mortgage. From the start, we can answer questions about what your home equity can do for you. As part of that support, we can help you separate the facts from the myths about reverse mortgages. We can also help you understand how different terms benefit you. An informed decision about how to receive your loan, and about whether you should consider a HECM or Equity Elite loan, can ensure that you see the most long-term value from your home equity.
Talk To FHL Texas About Securing A Reverse Mortgage And Benefiting From Your Home Equity!
When you gain access to your home equity, you can more comfortably plan for your retirement and enjoy life with more financial freedom. You can also set yourself up to be protected against unexpected expenses, including medical bills and long-term care costs, that may arise. We have experience helping qualified homeowners take advantage of reverse mortgage terms that help them enjoy their home and the equity that they have generated. For questions about what a reverse mortgage can offer you, insights into different loan terms, and more, reach out by calling FHL Texas today at 1-800-990-LEND (5363).