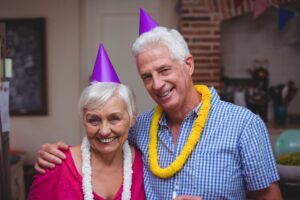 Whether you want to enjoy your time with your family, see the world, or simply kick up your heels and relax, your retirement can be a truly special time. Of course, it is also a life stage that requires thoughtful saving and planning. For Texas homeowners over the age of 62, a reverse mortgage can be a big help when it comes to retiring comfortably. This type of loan lets you turn the equity that you have built in your home over the years into something you can spend. Qualifying borrowers can enjoy access to significant funds that can be put toward their goals, including goals of enjoying life after work.
With the aid of FHL Texas, you can find out what kinds of options are available to you in terms of securing a reverse mortgage. Our experience in this field goes beyond simply helping people with their application. We can provide important insights into what a reverse mortgage does and does not require as well as guidance and counseling throughout the process of securing yours. We can also help you review the types of loans available to you and make sure you understand how your reverse mortgage can support you in the long term.
Do You Have Ambitious Plans For Your Retirement?
When you picture retired life, what activities do you envision? Having more time for your own goals and interests can mean more traveling, classes to pick up new skills, and more opportunities to visit with family. Whether you have grand plans or more modest ambitions, you should be prepared to support yourself financially after retiring. This is an exciting time, but it can also be a time of unexpected challenges, as home repairs, medical events, and other unexpected costs can arise. Having the financial assistance of a reverse mortgage can protect you if you already have a considerable nest egg; it can also mean the difference between modest or delayed plans and the post-work life you have longed to experience.
Your Home Equity Can Lead To Exciting Financial Opportunities
Homeowners spend years gradually building equity, which raises their overall net worth. While you may have more money in your home, that money stays tied to the home. However, once you reach the age of 62, you can find out if your property qualifies you for a reverse mortgage! This is a type of loan that lets you borrow against your equity. Your name remains on the title, and you remain in control of the property, but you also access spendable funds. As you explore your options for this kind of support, you can find that you can receive these funds in different ways, and you can even use part of what you receive to set up automatic payments on remaining home costs like property taxes, HOA dues, and more!
Qualifying For Your Reverse Mortgage
A reverse mortgage is a type of loan restricted to those who are at least 62 years of age and have a qualifying property. You do not need to have complete ownership of your home to qualify for a reverse mortgage, but you should have at least 50% equity and be prepared to pay off an existing mortgage with the funds that you receive. In addition to single-family homes, split-family houses of two-to-four units are eligible provided your name is on the title and you occupy one of the residences. Townhomes and condominiums can also qualify. For a condominium, a traditional HECM loan is only available if yours is FHA-approved. There are certain exceptions to this rule if you apply for an Equity Elite or Equity Elite Zero loan on a condominium.
There Are Different Kinds Of Loans Available To Qualifying Borrowers
Texas has updated its rules for reverse mortgages and will now allow homeowners aged 62 and older to explore options for Equity Elite and Equity Elite Zero loans. These differ from the traditional, FHA-backed HECM loan in ways that can appeal to you. In addition to being available to more types of property, they offer access to more funds in the first year of the loan, they can be secured with fewer closing costs, and they allow access to higher loan amounts for properties that have more equity.
Loans do not just differ in type, as there are also options when it comes to how you receive your loan. Higher upfront sums are available, and so are options that will see you receive monthly payouts. You can even receive your loan as a line of credit with the lender, which will continue to grow until you take from it. Homeowners who want peace of mind can also establish a Property Charge Set Aside, which enables them to establish automatic payouts to cover remaining home costs.
Are Myths About Reverse Mortgages Holding You Back From An Important Kind Of Support?
One thing to keep in mind when it comes to a reverse mortgage is that it is tied to your ownership of your property. This means your plans for retirement should see you remain in place, but it also means that ownership stays with you. Potential borrowers can miss out on important funds because of myths about reverse mortgages. They may hesitate are under the impression that their home title changes hands, or that they no longer fully own their home. This is not the case, as the title remains with you. You even retain the option to pass the property to your heirs. Because we offer no-obligation consultations, we can help clarify what this type of loan does and does not require, and we can help you make sure this is the right choice for you before you make any commitments.
Talk To FHL Texas About Securing Your Reverse Mortgage!
Securing a reverse mortgage can be an important step toward reaching your retirement goals. If you want to know more about what this kind of loan can do for you, reach out and set up a no-obligation consultation today by calling FHL Texas today at 1-800-990-LEND (5363).