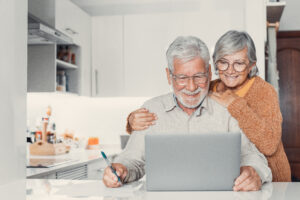 Homeowners enjoy greater control over their living space than renters, which can help them establish it as a place where they feel truly comfortable. Over the years, you may have introduced several changes by repainting, changing your flooring, and even remodeling. Letting go of your space and the work you put into it can be difficult, but you may feel that doing so in order to sell your home is your only option for turning your equity into something that can help you secure retirement funds. What you should know is that a reverse mortgage lets you borrow against that equity and receive a helpful sum of money while remaining the owner of your home!
FHL Texas has experience with the reverse mortgage process, and we can help you determine if it is the right one for you. It is helpful to know what you gain from this kind of support, and what it does and does not require of a homeowner. We can also help you explore the different kinds of loans that are available to help you secure one that is best suited to your needs.
Home Ownership, Equity, And Your Financial Standing
When you purchase a home and start making mortgage payments, you build equity. This helps you grow your net worth, but equity is not something that you can freely spend. As important as it is to have assets with real worth, you can feel frustrated at times when you have upcoming financial requirements that make some spending necessary. You may find yourself thinking more about what you have available to spend, and what you will support yourself with in the future, as you approach retirement age. With a reverse mortgage, you can borrow against your equity with a type of loan that does not require regular payments. Instead, you can receive continued payments from your loan that support you through the years. This support comes even as your home remains in your name, and you maintain your rights as its owner.
How A Reverse Mortgage Helps You Make Use Of Your Established Equity In Your Home
A reverse mortgage is a type of loan where the equity you have built allows you to borrow from a qualified lender. The sizes of these loans, and their distributions, will depend on how much equity a borrower has built and their preferred terms. There are different options as well as different loan types that are available to you. While you are borrowing against your equity, which you have steadily built through paying off your property. Borrowing against your equity in this way does not mean giving up control of your home, and you are not forced to leave it or to remain in place. However, there are certain requirements regarding your intent and ability to maintain the home and remain in it. We can help you understand what these requirements are and whether this is really the right solution for you before you make any commitments.
Does Your Reverse Mortgage Affect Your Control Of Your Home?
Your home remains yours after your reverse mortgage, and your name remains on your title. A reverse mortgage is a valuable form of support for individuals and couples who want to stay in their living space but want to use their equity to help with their retirement. It will not stop you from making renovations and taking on any other projects to change your property, and it will not prevent you from selling. With that said, there are a few things to keep in mind. One is that you need to demonstrate that you will be able to keep up with all payments on the home as well as the necessary upkeep to maintain its value. Another is that if you do decide to sell the home, you will need to repay your loan. We can help you know what to expect from your arrangement should you agree to this form of support.
What To Look Forward To After Securing Your Loan
Once your loan is secured, you can look forward to receiving funds at the rate that you established. That can mean consistently monthly payments over its life, or it can mean receiving a larger sum at the start and smaller amounts in the future. You can also opt for a loan in the form of a line of credit. This will allow that credit line to keep growing until you withdraw from it, so you can grow the amount that you received and have more money than you were initially approved for!
The money you receive can be used as you see fit. Some will set aside funds to protect against future medical costs or other unexpected expenses. Others may choose to supplement their retirement and enjoy a more fun and eventful life after retirement. You also have the option of putting the money into your home by making renovations that make it more comfortable and potentially raise its value.
New Reverse Mortgage Options Are Available To Texas Homeowners
Changes in Texas law have given interested borrowers more reverse mortgage options. You can pursue an Equity Elite or Equity Elite Zero loan. Both come with lower upfront costs, making a reverse mortgage feel more accessible. They can also provide more money in the first year of the loan while making larger sums available to those whose properties have higher value.
Talk To FHL Texas About What A Reverse Mortgage Can Do For You!
By exploring the benefits of taking a reverse mortgage, you can learn how this kind of support lets you use your equity to take care of different expenses in your life. If you are interested in discovering how this kind of loan can help you, call FHL Texas today at 1-800-990-LEND.