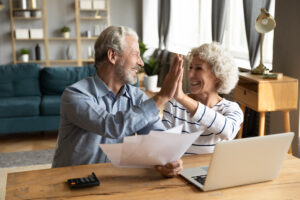 When it comes to reverse mortgages, different homeowners are eligible for different sums. The amount that you receive will depend on your current equity, the appraisal of your home, and on the current interest rates. It may not surprise you that these different factors will affect how much you are offered by a lender. What you may not realize is that a borrower can select from different terms that dictate what they receive and when. Due to recent rule changes for Texas property owners, there are also alternatives to the traditional government-backed HECM option that has been offered to borrowers.
Guidance from FHL Texas can make it easier for you to both confirm that this financial step is right for you and see what terms best suit your needs. Our experience in these matters helps us find the right terms for borrowers. We can also help you confirm that this is the right step for you, and help you determine if this is the right time to move forward with your plans to receive this kind of support.
You Have Options If You Are Considering A Reverse Mortgage
The years you have spent paying off your mortgage has grown your equity in your home. That equity certainly benefits your overall net worth, but it does not provide you with cash that you can spend. However, access to a reverse mortgage will help you utilize that equity by borrowing against it and receiving money that you are free to use as you see fit! This kind of loan is available to people in qualifying homes after they reach the age of 62. For Texans who are looking for a way to add to their retirement, support home renovations, cover medical costs, or use what they receive in any other way, this kind offer significant assistance at a time when you are preparing to leave the workforce (or already out of it).
Choosing Between A HECM Or Equity Elite Loan
Recent rule changes in Texas have opened up new options to potential borrowers. In addition to the traditional reverse mortgage, the Home Equity Conversion Mortgage (HECM), there are options to select an Equity Elite or Equity Elite Zero loan. These are separate options that come with lower upfront costs, which means less of what you receive will be applied toward closing costs. With these options, there are also certain exceptions to the limitation that only FHA-approved condominiums can receive them. During your counseling, we can help you understand how the different loans available will impact your decision, and which one might be right based on your property, what you hope to receive, and your long-term plans.
How Should You Receive Your Money?
While some borrowers can have an immediate plan for the sum you receive, others will not. Your long-term and short-term interests can be better served by different approaches in how funds are given to you. There are options that let you take more in the first year, as well as those that provide a consistent monthly sum. If you do not have immediate plans for what is provided to you, taking a line of credit can actually help you grow what you have earned in order to have a larger sum to draw from at a later date.
How Your Timing Can Impact What You Receive
Changes in the housing market and interest rates can affect what lenders are ready to give you. These are largely out of your control, and they can affect what you are awarded at the time you try to move forward with the lending process. With that said, if you have plans to renovate your home that will not require the support of your loan, completing the work on your property can positively affect your appraisal and help you draw against a larger amount of equity.
Consistent Protections For People Who Receive Reverse Mortgages
While you have different options to explore if you want to take out a reverse mortgage, there are certain protections that you will enjoy with any terms. One important note is that you will not see your title transferred as part of your arrangements. Your name remains on your home title, and you still have the power to sell your property or pass it to an heir. The money comes from accumulated home equity and not income, so you are not going to be taxed on what you receive.
Because people sometimes fall for myths about reverse mortgages and how they affect the control you have over their living spaces, many will pass on this opportunity to draw significant income at a time when retirement looms and additional funds can have significant value. You can count on counseling with us and an FHA-approved financial counselor to make sure you know what will or will not be involved in this kind of loan. These sessions can help you make sure this is the right move for you, or they can let you know that you might be better served looking into something different.
Contact FHL Texas Today To Learn More About The Money Your Home Equity Can Help You Secure!
A reverse mortgage is a kind of home loan that lets you use the equity you have built up to receive funds that you are free to spend as you see fit! Qualifying borrowers can make this part of their retirement nest egg, or they can explore any other number of uses that will better suit them. For more information on what to expect from this form of borrowing, and to find out more about how you can secure terms that truly suit you, please reach out to FHL Texas today at 1-800-990-LEND (5363).